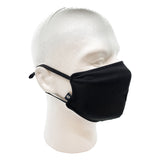 FY
FY Label Blank Face Masks (black)
Our masks are not flat. It is curved to fit nicely on your face. Double layer nylon. Back of masks has side pocket opening to put a filter through or whatever you want for optional added protection (filter not included). Lightweight & breathable with adjustable elastic earloops to ensure proper fit.
Double Layer Spandex Nylon Fabric
Side Pocket Opening
Anti Microbial
Water Repellant
Adjustable Elastic Earloops
FY Woven Label
One Size Fits Most
PU Reinforced Edges
Machine Washable 
Ships Out 2-3 Business Days

This is a personal use item that cannot be returned. All sales are final.
Disclaimers: These masks are not substitutes for surgical (N95) masks and are not FDA approved. According to the CDC, however, when used correctly these masks should contribute to decreasing community spread of the coronavirus.
The Centers for Disease Control and Prevention is now advising Americans to voluntarily wear a basic cloth or fabric face mask when they go out to help curb the spread of the coronavirus. Businesses will also be authorized to deny entry to customers who aren't wearing face coverings. The CDC advises that due to the shortage of medical masks that the N95 masks should be reserved for hospitals. 
We're doing our best to keep cost low so people can afford them, help others and keep our business afloat. Thanks for your support. Stay home and stay safe. But wear an FY mask if you do have to go out.